PROF. (DR.) SHANTARAM BALWANT MUJUMDAR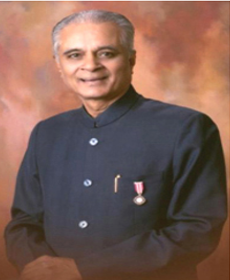 Prof. Dr. S B Mujumdar is the Founder and President, Symbiosis, and Chancellor, Symbiosis International (Deemed University). A renowned academic and educationalist, he has received civilian honor many times by the Government of India. He was awarded Padma Shri in 2005 and Padma Bhushan in 2012 He was also awarded Punyabhushan in 2009 The complete list of accolades is far too long for these pages and includes Maharashtra Gaurav Award and the FIE Foundation Award.
He was born on 31 July 1935, in Gadhinglaj, Kolhapur district, Maharashtra. He won a Master's degree in Botany and a Doctorate in Microbiology. He was the Head of the Department of Botany at the Fergusson College, Pune, for over twenty years. He has authored many books and published research papers in botany. He also served on the Executive Council, Senate, and Academic Council of the University of Pune for several years.